Melbourne Professionals For Mattress Steam Cleaning, Disinfection & Stains Treatment
With over 25+ years of experience in the industry, we take pride in our mattress cleaning Melbourne team for giving the best quality services. From removing stains and smells to steam cleaning and drying, we perform all at an affordable price. No need to replace the dull-looking or dirty mattress, when we can help you refresh it with powerful deep cleaning.
To book us, directly ring us at 03 4050 7972. We offer same-day mattress cleaning services Melbourne-wide. As our bookings hours are open 24 by 7, you get to schedule us any time. Also, we ensure sending trained mattress cleaners with the best quality solutions to treat your mattresses.
By booking us, your mattresses will be free from dust, mites, stains, bad smells, etc. Further, having our expert sanitize your mattress, can help you get an allergy-free experience and a healthy lifestyle.
Moreover, our Melbourne team has the proper knowledge and also gives long-lasting service for Carpet Steam Cleaning, Carpet Dry Cleaning, Carpet Stain Removal, Carpet Repair, Tile And Grout Cleaning, End Of Lease Carpet Cleaning, Flood Damage Restoration, Rug Cleaning, Curtain Cleaning and Upholstery Cleaning. We are Melbourne's best cleaners.
Contact Us: Have Any Queries, We Would Serve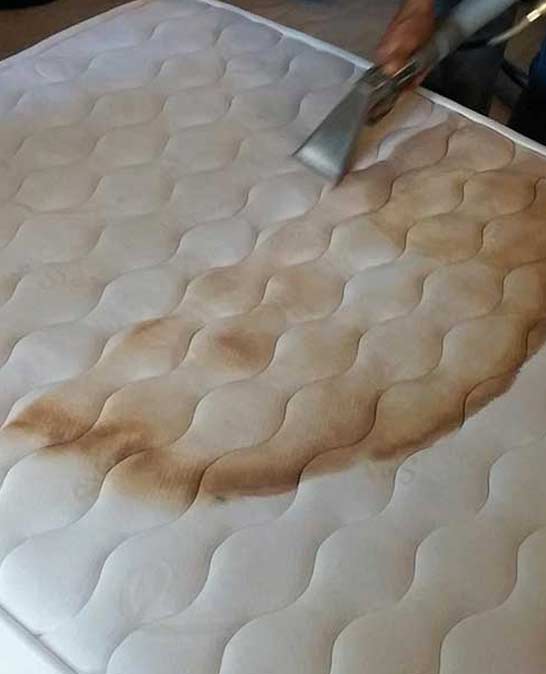 We Clean All Mattresses In Melbourne: Keep Your Family Healthy
We understand the importance of a clean and healthy home for your family. That's why we offer professional mattress cleaning services to keep your mattresses free from dust mites, allergens, and bacteria. Our eco-friendly cleaning methods and advanced equipment ensure a deep clean while being gentle on your mattresses. Trust us to provide a healthier sleeping environment for your loved ones.
Single Size Mattress- A single mattress is the smallest standard size available and is perfect for small rooms or children's bedrooms. It measures 91cm x 188cm and is usually the most affordable option.
Single XL Size Mattress-A single XL mattress is slightly longer than a standard single, measuring 91cm x 203cm. This size is ideal for taller individuals who need a bit more legroom and can also be a good option for narrow bedrooms.
King Single Size Mattress-The king single is a popular choice for teenagers and solo sleepers who want a bit more space than a standard single. It measures 107cm x 203cm, providing a comfortable sleep surface without taking up too much space in the bedroom.
Double Size Mattress- A double mattress is a versatile option that is suitable for couples or individuals who want more sleeping space. It measures 138cm x 188cm and can comfortably accommodate two people while still fitting into most bedrooms.
Queen Size Mattress-The queen mattress is the most popular size and offers plenty of room for couples or individuals who want extra sleeping space. It measures 153cm x 203cm and is a good choice for larger bedrooms. 

Scotchgard protection is essential to protect your mattress from future stains. We will properly apply the Scotchgard and will make sure you get the best and long-lasting results through it.
Experts For Emergency & Same Day Mattress Cleaning Service Melbourne-Wide
You can benefit yourself from our emergency and same-day mattress cleaning services. We aim to provide every client with the best possible service. From stain treatment to drying or deep cleaning- we can help you with a quick service. Moreover, we ensure giving services to every client within 24 hours of a confirmed appointment. In addition to this, our emergency services are always open for you. So, feel free to reach out to us for a short-notice mattress cleaning service anywhere in Melbourne.
Technicians For Removing Urine And Sweat Stains On The Mattress
With daily use, mattresses tend to accumulate body sweat. Moreover, your kids or pets may sometimes urinate on mattresses. These all add to the collection of urine and sweat stains on the mattress. Therefore to help you remove such stains from the mattress, we offer effective stain treatment in Melbourne. We clean them from the mattress thoroughly, leaving a fresh-smelling and stain-free mattress for you. Further, rely on us to remove any stains from the mattress. All our stain removal solutions are mattress-friendly and safe.
List Of Mattress Cleaning Melbourne Services We Offer
Mattress steam cleaning– As your mattress suffers a lot every day with spills, stains, odour and whatnot. To deep clean mattresses, we offer a mattress steam cleaning service. In this, we use high-powered steam along with detergents. Moreover, our mattress steam cleaning service is the most-called in Melbourne.
Mattress dry cleaning- Need not use too much water while mattress cleaning. We prefer doing mattress dry cleaning services for old or poorly maintained mattresses. With minimal use of water, you get a neatly cleaned mattress in no time. Ring us for mattress dry cleaning today!
Mattress mould removal- Our company also provides a complete mould removal service for mattresses. In Melbourne, you can appoint us for same-day mould treatment for mattresses. Further, we assure you a clean, fungi and bacteria-free mattress with quality mould-clean-up service.
Mattress stain and odour removal- On passing by a mattress do you observe a strong smell? Is your mattress stained badly? Well, we got you covered. Our mattress stain removal experts are skilled at removing stains, spots and stains effectively.
Dust mites treatment mattress– Resting on a mattress for long leads to a build-up of dust mites and dead skin. Without a timely cleaning, it can cause headaches, itching and skin rashes. To eliminate this issue, call us for a special dust mite treatment for mattresses in Melbourne.
Mattress sanitization- You not only believe in offering a deep clean mattress but also giving a sanitised one. Yes, we are the No. 01 mattress sanitization provider in Melbourne. Call us to get a properly cleaned & sanitised mattress today.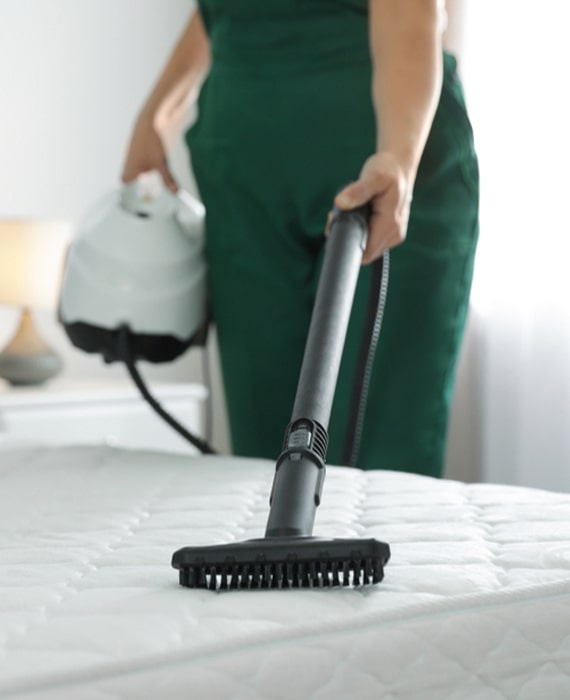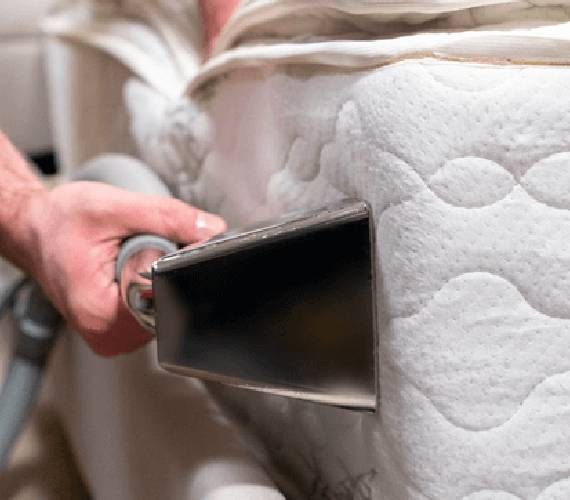 Process Of Quality Mattress Cleaning We Use
At City Carpet Cleaning Melbourne, we follow a step-by-step procedure for quality mattress cleaning service.
Inspection: We begin the procedure by inspecting your mattress closely from end to end. This is to select the right cleaning method for your mattress.
Pre-Vacuum: We then vacuum your mattress to remove the surface dirt and debris from it.
Killing Bacteria: Bacteria are removed using effective solutions. It helps in the removal of all kinds of contaminants.
Cleaning: Either by dry cleaning or hot water extraction, we thoroughly clean your mattress. Also, we clean mattress stains to ensure an even and clean mattress.
Deodorization & Protection: We conclude by removing smells from your mattress and sanitising it. It will result in a pleasing, fresh and allergen-free mattress. We will properly apply the Scotchgard and will make sure you get the best and long-lasting results through it. 

What Makes Us Stand Out For Mattress Cleaning in Melbourne?
Finding a trustworthy mattress cleaning company in Melbourne can be a challenging task. We understand that each mattress requires tailored cleaning, and that's where City Carpet Cleaning Melbourne comes in. We offer comprehensive mattress cleaning services with licensed professionals who can efficiently clean and disinfect your mattresses. Our expertise extends to:
Quality service assured.
Many years of proven expertise in cleaning mattresses in Melbourne
Melbourne's local mattress cleaners
Ready for booking 24 by 7
Using advanced equipment and solutions to clean your mattresses
All our mattress cleaning treatments are done in an eco-friendly way
So, what are you looking for? Book us now to enjoy a new-looking and fresh mattress in no time!
Is Hiring A Professional Mattress Cleaning Service Worth It?
Indeed hiring a professional mattress cleaning service is a good idea. As mattresses are not at all easy to deep clean by you, it's best to leave their cleaning to the experts.
A professional cleaning service will enhance the look of your mattress by removing all stains and dirt from it.
Expert cleaning services on a regular basis can lower allergies via bacteria on mattresses.
Scheduling an expert for a steam clean mattress can increase its life by keeping it protected from hazardous grime, dust and allergens.
An odour-free mattress will improve indoor air quality and health.
So, be very quick when it comes to hiring a mattress cleaning service.
FAQ's
Well, our mattress cleaning in Melbourne price varies depending on the condition of your mattress. However, you can expect a pocket-friendly and affordable mattress cleaning service from us. It can range between $79 to $299.
We clean and sanitize your mattresses without leaving any mess. By using safe mattress cleaning solutions, we make the mattress stain and pollutant-free. Later on, we spray it with neutral-smelling sanitisers. So, call us for a quality mattress clean-up today!
Hot water extraction is one of the best methods to deep clean a mattress. It removes all types of contaminants including dust mites and bed bugs. So, to avail yourself of a good night's sleep, you can appoint us any time.
Mattress cleaning can take between 3-4 hours. Usually, mattresses take 12-24 hours to dry. However, this depends on various factors including the size of the mattress, types of stains and cleaning gaps.