Affordable Duct Cleaning Company Trusted By All In Melbourne
We are the leading Duct cleaning Melbourne company that cleans your HVAC system and keeps the inner air quality of your room safe and allergen-free. Our professionals strictly follow the cleaning guidelines and standards set by NADCA, offering the best quality services at the most reasonable price rate.
Using the most effective cleaning solutions we make the duct filters of your HVAC systems and air ducts dirt-free and allergen-free right. And by acquiring our duct cleaning services in Melbourne, you can not only maintain your room's air quality but also increase the functionality of your HVAC appliances.
We never burden you with hefty service fees and with us, you will never come across any hidden fees. Assessing the condition of the ducts of your HVAC system, we offer a written bid, mentioning the service charge required to maintain transparency in our services. For all such reasons, we are heartily trusted by Melbourne.
Our Other Cleaning Services in Melbourne
City Cleaning is the best local Cleaning company in Melbourne with a wide variety of services including Carpet Cleaning, Rug Cleaning, Tile and Grout Cleaning, Flood Damage and Restoration, Mattress Cleaning, Upholstery Cleaning, and Curtain Cleaning services.
Contact Us: Have Any Queries, We Would Serve
Our Specialty: List Of Duct Cleaning & Sanitation Services in Melbourne and Around
We have a wonderful team of NADCA-certified duct cleaners who are experts in cleaning and sanitizing all types of ducts and ducted appliances you use in your homes and business places and are certified by the local authority for installing and testing ducting systems. We provide many services to help our customers in maintaining their air ducts and HVAC ducts. What is our speciality? Let us have a look at them:
Central Ducted Heating Cleaning
Air Duct Cleaning
Heating Duct System Cleaning
Evaporative Cooling Duct Cleaning
Duct Repairs
Gas Heated Cleaning
Dryer Duct Cleaning
Underfloor Ducts Cleaning
Vent Register Cleaning
Duct Heating Unit Cleaning
Return Air Duct Cleaning
Cleaning Benefits: Why Should You Clean The Ducts Of Your HVAC System Routinely?
Due to continuous use, a variety of contaminants, including tobacco smoke, pet hair, bacteria from dirt, dust mites, pollens, and more, tend to accumulate in the ducts of your HVAC appliances. Each time you operate the appliance, these pollutants circulate through the vents and disperse into your living space, leading to air contamination and various health risks, such as allergies and respiratory problems. That's why periodic duct cleaning for your HVAC system is essential. Here are several advantages you can experience with professional air duct cleaning services:
Reduce allergies
Over time the ducts of your HVAC system collect dust mites, excreta, and wastes of rodents, mould spores, etc, leading to allergic reactions, including skin rashes, sneezing, watery and red eyes, etc., But if you keep the ducts clean with professional assistance, you can combat allergies both at your home and office.
Eliminate foul odour
Are you recently sensing a foul odour inside your home and still searching for its source? Your dirty HVAC ducts are the ones to blame! The accumulation of odorous molecules in dirty ducts can spread foul odour throughout the house. But a complete duct cleaning service abolishes the molecules that cause odours, leaving the house feeling better.

Promote better air quality
You surely want your family members, pets, and employees to stay healthy by breathing in the fresh air, right? It is only possible if you acquire routine duct cleaning services. The cleaner the ducts, the better quality air you can expect at your home and office.
Saves energy
With unclean ducts your AC consumes more energy to work properly and maintain the temperature inside your premises, resulting in hefty energy bills. However, with duct cleaning in Melbourne, you can save on energy bills to a great extent.

Fewer chances of repairing
When you keep the air ducts of your HVAC system clean routinely, it ensures smooth functionality. Also, the technicians detect potential issues in your appliance before they show up. It in turn reduces the chances of repairing, saving your pocket from expensive repair costs.

Prevention of mould and mildew growth
Due to condensation, the air ducts of your HVAC system become the ideal place for mould and mildew growth. It has the potential to have major health consequences if left unchecked. Regular duct cleaning by our licensed HVAC professionals will help prevent these dangerous microorganisms from breeding in your ducts.
A Licensed Duct Cleaner In Melbourne Approved By NADCA
Our duct cleaning Melbourne services are compliant with NADCA, so you can be assured of our service quality. We follow all the standards and norms set by the National Air Duct Cleaners Association and offer safe and reliable duct cleaning services for both residential and commercial purposes. Additionally, all our team members are licensed and they receive industrial training before actually handling a client's project.

Abeckett Street
Fitzroy
Garden City
Cremorne
Docklands
Parkville
Kensington
Hawksburn
Abbotsford
Richmond
Our Local Duct Cleaning Service Is Available At All of Melbourne & Surrounding Suburbs 7 Days A Week
We are your one-stop solution for all duct cleaning Melbourne requirements. With 24/7 availability, we offer our services even on weekends and holidays. You can book us at your preferred timetable. Alongside the core regions of Melbourne, we offer our amenities in the CBD and suburbs including Abeckett Street, Fitzroy, Garden City, Cremorne, Docklands, Parkville, Kensington, Hawksburn, Abbotsford, and Richmond. So to get exceptional services for duct cleaning in Melbourne Eastern Suburbs, duct cleaning Geelong, duct cleaning Collingwood, and duct cleaning Ballarat, give us a call today.
Air Duct Cleaning
When you keep the air ducts of your HVAC system clean and dirt-free, it performs year after year. Employing modern techniques and solutions, we offer the best quality air duct cleaning in Melbourne preventing the chances of wear and tear.
Oven Duct Cleaning
You should always maintain cleanliness and hygiene inside your kitchen. Unless you clean your oven ducts routinely, it will increase the chances of allergen, vermin, and microbe infestation, causing threatening diseases. With a team of experts, we always offer the best oven duct cleaning, removing the possibility of contaminations.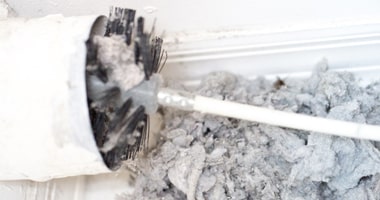 Dryer Vent Cleaning
If you skip cleaning your dryer vents routinely, the risk of home fire increases. Also, an unclean dryer vent can lead to high energy bills. With us, you can get reliable duct cleaning services at a pocket-friendly price.
Heating Ducts Cleaning
Pet dander, tiny rodents, insects, and other pollutants can infest your heater duct, making the allergy-prone members of your family suffer a lot. However, you can easily mitigate this issue by acquiring our flawless heater duct cleaning Melbourne services.
Cooling Ducts Cleaning
A congested duct of your cooling system not only pollutes the air inside the premises but also consumes more energy to cool down the temperature, which can increase the electricity bill. Our professionals ensure to clean the AC ducts right away!
CO Level Testing
Breathing carbon monoxide for a long time can even cause lethal consequences. So you should always keep the CO level inside your home or office under check. We offer a professional carbon monoxide testing Melbourne service to ensure your premises are safe and non-toxic.
Top Problems That May Happen If You Have Not Cleaned Your Ducts For Long
You should always consider cleaning the HVAC ducts within every short interval. Skipping the HVAC duct cleaning Melbourne services can lead to serious consequences, reducing the lifespan of your HVAC system.
Moulds: Condensation inside your HVAC system can invite uninvited moulds and mildews, which can pollute the air quality and decrease the lifespan of your appliance.
Pests: It might sound shocking but pests like mice tend to infest your HVAC ducts if left unclean for a long period. If you hear a scratching sound from your heating or cooling appliance, seek immediate help from duct cleaning Melbourne professionals
Inefficiency: A filthy and congested duct makes an HVAC system inefficient. Whether it's a cooling appliance or a heating one, it is less likely to function properly.
Noise: When dust, dirt, and grease accumulate in your HVAC ducts, it tends to produce a constant weird and disgusting noise every time you turn it on.
Smell: The dirt buildup and mice droppings inside your HVAC system lead to a foul odour that could irritate your olfactory senses.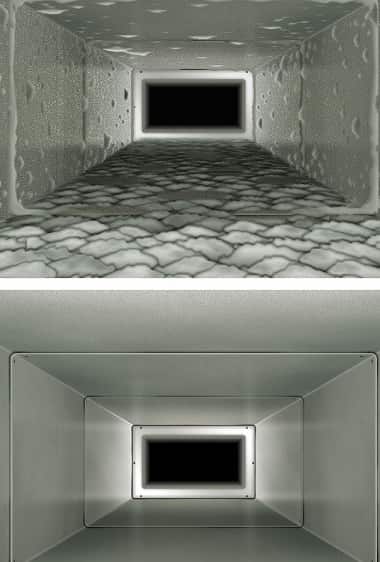 What Does Our Duct Cleaning Process Involve?
We use the most advanced techniques and solutions to offer the best possible duct cleaning Melbourne services. Here are the following steps that we employ to keep your HVAC ducts clean and germ-free.
Duct Inspection
We believe in offering fine-tuned solutions to clean your HVAC ducts according to the level of dirt. That is why our duct cleaning Melbourne team runs a quick inspection before figuring out the cleaning treatment.
Debris Removal
Our professional duct cleaning Melbourne team removes the trapped debris from the HVAC ducts using high-power advanced tools.

Duct Cleaning
Using effective cleaning methods and agents, we remove the last trace of dirt, dust, and pollen from the ducts.
Duct Sanitisation
To make your HVAC system completely germ-free, we spray non-toxic sanitiser on the ducts.
What Makes Us Your Top-Notch Choice In Melbourne?
Our customer-friendly behaviour, foolproof duct cleaning Melbourne solutions, and dedicated team make us your best-fit choice for duct cleaning. Here are a few aspects that mark us better than our alternatives.
Our professionals have Certificate III from a recognized organization for cleaning operations.
We keep our duct cleaning service charges very affordable.
We respond to your service queries immediately, offering timely service.
Our team possesses several years of experience so you can trust us.
We strive our best to keep your daily chores undisturbed while performing our cleaning programs.
As a complimentary service, we offer a follow-up to ensure the accomplishment of the cleaning project.
To experience a hassle-free, exceptional duct cleaning Melbourne service, contact us and make your booking on your flexible schedule today.
Melbourne's #No 1 Choice for Residential and Commercial Duct Cleaning All Year Around
Whether you're looking for residential duct cleaning Melbourne services or commercial duct cleaning, we have got you covered with both. From residential societies, industrial plants, and commercial set-ups to healthcare centres and restaurants, we serve all. If you have an urgent need for duct cleaning, we are ready to serve you our emergency duct cleaning Melbourne services.
Your Duct Cleaning (FAQs)
How Often Should You Clean Ducts in a House?
Usually, experts recommend cleaning your home ducts every 2 to 3 years to keep your HVAC appliances working smoothly. However, if you have children or other family members with allergies, you should opt for a yearly cleaning service from professionals.
Is AC Duct Cleaning Necessary?
Of course! An unclean AC duct is filled with germs, bacteria, dust mites, pollens, and allergens that deteriorate the inner air quality of your home, leading to allergies and asthmatic problems.
Is Duct Cleaning a Messy Process?
A DIY cleaning approach might feel messy as it involves a lot of steps and tools. However, you can easily get it done by experts.
What is the Duct Cleaning Process Time?
Depending on the level of dirt, the cleaning process generally takes 2 to 3 hours. After making the inspection, our professional can tell you the exact time needed.
Do You Have a Same Day Service Option?
Certainly! We are ready to serve you anytime and any day of the week. If you have emergencies, you can book our same-day duct cleaning services easily.
Do I Need to Have a Filter On My Return Air Outlet?
You can use a filter if you wish to, but it can reduce the performance as well as the durability of your HVAC system. So it's better to choose cleaning services over embedding an extra filter.