Flood Damage Restoration Company In Melbourne
Flood damage can wreak havoc on your property, and we fully comprehend the distress it can cause. Our dedicated team specializes in Flood Damage Restoration in Melbourne, and we're here to alleviate your concerns. We're committed to restoring your property to its former state, erasing the impact of the flood.
Contemplating tackling this restoration solo? The magnitude of the task makes it highly improbable to accomplish alone. This is where the necessity of professional expertise becomes evident. Entrusting the restoration to skilled hands streamlines the process, akin to transferring responsibilities to those capable of executing them flawlessly. Hence, you can rely on us for comprehensive flood damage restoration services.
Don't let flood damage overwhelm you – lean on our expertise to recover and rejuvenate your property.
What Is The Importance Of Flood Damage Restoration Services?
The need for professional assistance in flood damage restoration stems from a straightforward reality: floods can inflict extensive harm on your property. The complexity of dealing with such damage on your own can quickly become overwhelming. Thus, the imperative arises to engage flood restoration services, which are equipped to facilitate the restoration process.
At the core of this process lies the repair of the damage inflicted by floodwaters. This is precisely where our water damage repair services come into play. Our role extends to the comprehensive extraction of water, ensuring both your living spaces and furniture are spared from the damp aftermath.
In a nutshell, seeking professional flood damage restoration is a strategic step to effectively manage the aftermath of floods, safeguard your property, and restore normalcy.
Contact Us: Have Any Queries, We Would Serve
Our Experts Are Here To Offer The Advanced Wet Carpet Cleaning And Restoration Treatments In Melbourne
When floodwater infiltrates your home, it carries harmful germs and unwanted debris. It's not just wise but essential to seek professional help to eliminate this threat. Our certified experts are prepared to handle this task, ensuring your space is fully restored.
We specialize in water damage cleanup, which is crucial in the aftermath of floods. Our tailored flood restoration services make the process seamless, allowing you to say goodbye to the damage and restore your property.
Reclaiming your space is now easier than ever. Contact us today by phone or online, and our experts will take care of the rest. Your peace of mind is just one step away.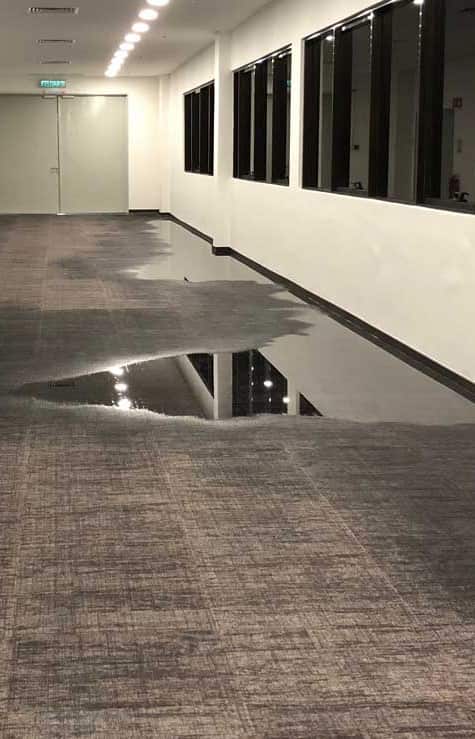 Procedures For The Flood Damage Restoration
As the premier water damage restoration company in Melbourne, we have earned a reputation for delivering top-tier services to our valued customers. With years of industry experience, we understand the most effective solutions for our clients. Floods often leave homes and properties submerged, making it imperative to address these issues promptly. That's where we come in to assist you. Our flood damage restoration process is as follows:
Our experts reach the location and will perform a thorough inspection of the areas that are full of water.
For performing an inspection, it is necessary to use water-seeking equipment. Not only that, but we also use other tools which we need for detecting the intensity of several other damages.
Our flood restoration services mainly focus on those regions which need special attention and professional care.
Therefore, we pay more attention to the areas where there is a lot of water accumulation such as basements, garages, backyards, etc.
We also look if there is any mould formation. If yes? We use the necessary measures to get rid of it.
Experts will use the latest technology and methods such as pressure-washing using organic solutions.
Last, but not least, we perform sanitization thoroughly, which will reduce the causes of infection. Therefore, it helps in the prevention of various diseases.
What Makes Our Company Unique From Others?
Several features will make our company different from others. Our company is the best water damage restoration company in Melbourne. The following features will justify this:
Latest Tools And Solutions: Our experts will use the most advanced and latest technology to get rid of water and also suction it.
Emergency Services: Our experts will provide the services in cases of emergencies such as floods, and any other cases.
Customized Services: We customize our services according to your requirements depending on the situation.
Local Carpet Cleaners: Our company is a locally-based one, we provide our services in all the regions of Melbourne.
Affordable Pricing: When it comes to pricing, our company provides all our services at the most affordable prices. With this, the services won't be heavy on your pockets.
Guidelines By VIC Govt For Flood Damage Reduction
The Victorian Government provides the following guidelines for reducing flood damage:
Be aware of your flood risk: Check your property's flood risk by reviewing flood maps and obtaining information from your local council.
Prepare an emergency kit: Assemble an emergency kit that includes essential items such as torches, portable radios, first-aid kits, and emergency contact information.
Create a flood plan: Develop a flood plan that outlines what you should do before, during and after a flood. Ensure that everyone in your household understands the plan.
Know how to turn off utilities: Know how to turn off gas, electricity and water mains in the event of a flood.
Raise electrical components: If you live in a flood-prone area, elevate your electrical components such as power points, switches, and wiring.
Secure your home: Secure your home by installing flood-resistant doors, windows, and seals. Use sandbags to create a barrier to prevent water from entering your property.
Keep gutters and drains clear: Keep gutters and drains clear of leaves and debris to ensure they are functioning properly.
Store important documents safely: Store important documents such as insurance policies, passports and birth certificates in a safe place.
Obtain flood insurance: Obtain flood insurance to protect your property in the event of flood damage.
Keep informed: Keep informed of flood warnings and updates by listening to the radio, checking social media and subscribing to alerts and notifications.
Services By Our Team For The Restoration Of Flood Damage
As we all know, dealing with a water damage crisis is a tough task. Therefore, you can get our flood restoration services in Melbourne and clean up the mess caused by floods. We provide many services to help our community in Melbourne and its suburbs.
Wet Carpet Cleaning Melbourne- By availing of our services, you will be able to get rid of the water and moisture present in the carpets. Carpets are often subjected to damage due to floodwater. So, our experts will pay special attention to your carpets. We clean your carpets using organic cleaning solutions; with the usage of these, we will be able to remove most of the dirt.
Wet Carpet Drying Melbourne- After cleaning the carpets thoroughly, our experts will perform the drying of your carpets. For this, we make use of water-suction pumps and absorbent towels. Using these, we can remove most of the moisture content present in the carpets.
Carpet Water Extraction Melbourne- When it comes to the removal of water from carpets, it needs special attention. Along with that, it also calls for the extraction of water from deeper layers of carpets. This is the case when the carpets are thicker. Hence, we use dehumidifiers for the suction of water from the deepest layers.
Flooded Floor Clean Up Melbourne- Flood water also damages the flooring, mainly due to the accumulation of water. This water should have a special passage or gateway to pass through and exit the spot. Along with the water, it also brings along a lot of dirt into the house. Hence, with our services, we will help you in getting rid of dirt.

Carpet Damage Restoration- The pressure in the water, might cause severe damage to your carpets. Water usually affects your carpet's fabric. Therefore, it is very important to seek professional help to repair the damage caused to the fabric of the carpet. Our carpet repair and restoration services will improve the condition of your carpets.
Carpet Deodorization & Sanitization- Due to exposure to flood water and murky materials, carpets develop foul smells. So it is important to deodorize your carpets. This will help in improving the smell of the carpets. Along with the deodorization, we also perform sanitization to remove any traces of microorganisms that might cause several diseases.
FAQ's
We provide all services at affordable prices. Please call us for a quote. We need to know your situation before sharing the price.
Our company is a locally-based one, therefore, provides all the services in all the regions of Melbourne.
Yes! We offer a wide variety of services, among which carpet cleaning is the most popular one. We perform carpet cleaning, carpet drying and also deodorization of your carpets.