Best and Affordable Curtain Cleaning Service In Melbourne
Are you looking for curtain cleaning services near you in Melbourne? City Carpet Cleaning is a one-stop solution for all curtains and drapes cleaning problems. Our curtain cleaning Melbourne team is capable of providing timely curtain cleaning services. We are well-trained and have enough experience to perform standard curtain cleaning and drapery cleaning services. Moreover, we also provide on-site curtain cleaning services as well as off-site curtain cleaning services. All these facilities are available at affordable prices. Our services are available in all areas of Melbourne. Call us today on (03 4050 7972).
We are available for effective curtain and blind cleaning services throughout Melbourne.
We provide all types of curtain cleaning solutions like curtain dry cleaning Melbourne, curtain steam cleaning Melbourne and curtain odour removal services.
Our company also delivers emergency curtain cleaning Melbourne services.
We can treat all types of curtain fabrics like silk, lace, linen, velvet and others.
You can trust our professional services as we use eco-friendly products and cleaning agents. Lastly, all our services include advanced cleaning techniques.
Contact Us: Have Any Queries, We Would Serve
Commercial and Residential Curtain Cleaning in Melbourne
Book our Melbourne curtain and blind cleaning services today. We provide both commercial and residential curtain cleaning services. Our team can take care of all types of stains. Hence, we have strong and effective cleaning solutions. Moreover, our tile and grout cleaning Melbourne team has the proper knowledge and also gives long-lasting service. Carpet Steam Cleaning, Carpet Dry Cleaning, Carpet Stain Removal, Carpet Repair, Mattress Cleaning, End Of Lease Carpet Cleaning, Flood Damage Restoration, Rug Cleaning, Tile And Grout Cleaning and Upholstery Cleaning on a same-day basis, we are Melbourne's best carpet cleaners. Moreover, they are safe for kids and pets. We even provide curtain rehanging services in Melbourne. Therefore, you can trust our skilled team of curtain professionals. They will revive the quality of your curtains and make them look as new as before. This is possible due to our cutting-edge curtain cleaning products and procedures. You can call us for affordable quotes today.
Melbourne's Most Reputable And Economical Curtain Cleaning Service
Cleaning the drapes is essential. It prevents outside dirt and dusty light from entering your home. Moreover, there's a significant chance your curtains will get soiled. Contaminants cause the curtains to become colourless and dirty. The quality will degrade if it is not washed properly. Please get in touch with City Carpet Cleaning Melbourne if your curtains need to be cleaned. Our curtain-cleaning Melbourne team is committed to giving the most effective and quick service imaginable.
We have a team of experienced cleaning staff for this job. They are equipped with the appropriate skills and resources. You can find us by searching for curtain cleaning near me. Our group has years of knowledge in dealing with curtain cleaning services. As you are aware, wiping curtains is critical to keeping them in excellent shape. So, contact us today to receive the best professional curtain cleaning service.
Appoint Our Team To Get A Wide Range Of Curtain Cleaning Services In Melbourne
You can contact us for a diverse variety of curtain cleaning services. All of these services have been provided by our team for many years. All of these services are below here.
Curtain dry cleaning- This process is used to remove smells, grime, cigarette residue, and mites from curtains. This method keeps curtains from shrinkage, especially linen curtains, which usually shrivel after frequent cleaning. This cleaning also keeps your curtains away from discolouring.
Curtain steam cleaning- Since the curtains don't have to be detached from the rails, our experts utilise this procedure for curtains with a great fabric density or those made of robust materials. Therefore, our team is the best at providing curtain steam cleaning services all over Melbourne.
Cleaning of blinds- Our experts can also assist you in wiping the blinds. We have several years of knowledge in the cleaning of blinds. To wash the blinds, our crew will employ both traditional and cutting-edge methods.
Curtain mould removal- Mould on curtains is tough to exterminate and can't be eliminated with fluid and soap. If your curtains are already rotten, you must remove them quickly and call us to get them washed. We employ the cleaning properties of tea tree oil to remove mould from curtains.
Curtain stain removal- You can also contact our staff to have the spots removed from your curtains. We will employ the most advanced and efficient stain removal procedures. Our main goal is to give you an excellent stain removal service.
Drapes cleaning- We also have a team of experienced cleaners accessible to clean the draperies. We have a lot of expertise in washing curtains. Therefore, give us a call today to set up a booking for drape cleaning services.
Curtain rechanging- Our crew can also assist with curtain rehanging. It is quite difficult to hang the curtains on your own. As a result, our group offers this service at quite inexpensive rates.
Curtain cleaning and anti-allergen treatment- Contact our staff immediately to receive the finest dusting curtains service. We can also assist you by treating your curtains for allergens.
The Benefits of Expert Curtain Cleaning Service
Any type of washing would be easily identified if it has been done well because it has a unique beauty. Expert curtain cleaning Melbourne services renew your window treatments by removing toxins, household grime, bad smells, and dust residue. If you want to clean your curtains at home, you'll need specific tools and a washing solution. Therefore, hiring an expert will cost you a little more. Moreover, the effects would be satisfactory and well justify the dry cleaning curtains cost. The following are some of the benefits of hiring a professional curtain cleaner.
Professional cleaning services can simply increase the curtain's lifespan.
It will be a quick and easy treatment.
It enhances the appearance of the curtains.
Experts can clean curtains while hanging
The material determines the effective cleaning process.
Our Company Cleans Various Types Of Blinds and Curtains
All of our professionals are highly qualified to work with a wide variety of curtains and blinds. As a result, you can call us to wash the curtains and blinds at any moment. The following is a list of the blinds and curtains that we clean.
Lace curtains
Sheer curtain cleaning
Acrylic curtains
Vertical blinds
Pencil pleat curtain
Roller blinds
Double box pleat curtain
Cased heading curtain
Linen curtains
Roman blinds
Our Professionals Provide Same-Day Curtain Cleanup In Melbourne
Do you desire to have your curtains looking pristine and beautiful in just one day? Well, that's indeed an achievable option. What's more, you can even have brand-new curtains within a single day of placing your order. When you reach out to our same-day, on-site Curtain Cleaning Service team, we will come to your home and take care of your curtains. We provide exceptional same-day curtain cleaning services. Our experts can clean a variety of curtain types, including cotton, residential, commercial, coverings, vertical shades, salon curtains, silk curtains, and more. Contact us, and we'll dispatch a skilled team to clean your curtains on the same day. So don't wait; get in touch with us now and schedule an appointment for top-notch same-day home curtain cleaning. Moreover, our curtain cleaning prices are competitive and affordable, so you can check Curtain Cleaning Melbourne reviews and make your booking.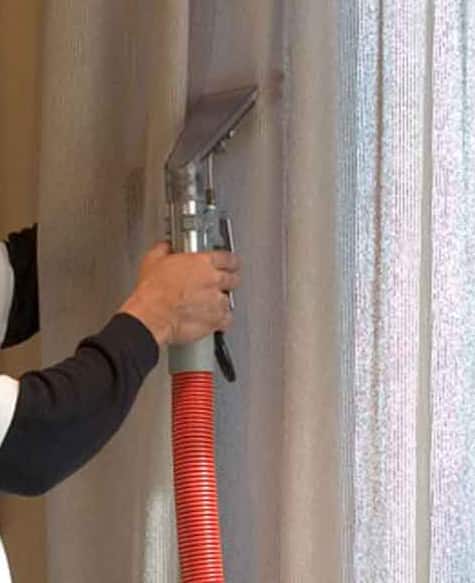 Why You Must Hire Us to Clean Your Curtains in Melbourne?
These are some of the main reasons why hiring our team will be a great choice for you.
As already said, professional cleaning is always a preference over personal cleaning. Our customers are essential to us, and we strive to provide the finest service possible.
Our team has acquired a depth of expertise all over the decades. Therefore, they understand which method is ideal for which fabric.
We wash the curtains using an environmentally friendly way. This allows us to give something directly to the ecosystem. We also reuse our materials, which helps to conserve water.
Our processes have been refined over time, and we understand exactly how to wash drapes.
We use cutting-edge products and procedures to deliver the best curtain-cleaning services in Melbourne.
Furthermore, our prices are cheap, so hiring us for curtain cleaning will not break the bank.
We ensure that your blinds are in excellent shape once they have been washed. This transforms their look.
FAQ's
Sure, you can contact our professional cleaners and get our delightful curtain cleaning services. We offer them straight to your door.
Yes, we can make your curtains look new again by washing and refinishing them. Further, we ask for low curtain cleaning costs.
Our amazing curtain deodorizing solutions are more than competent in meeting your needs. Additionally, we can offer you more suited services. So, call us now and book an appointment.