Melbourne Carpet Repair Company With Affordable Services
Carpet repair can be complicated at times. However, with the help of experts in Melbourne, your carpets will be looking great again, and that too without any hassle. We can repair several types of carpet damage at affordable prices. Below are the other specialities of our company-
Three hundred sixty-five days and 24/7availability
Safe equipment and carpet repair solutions
Same-day carpet seam repair service
Emergency carpet repair solutions
Transparency in business
You can hire our specialists in Melbourne for affordable carpet repair services. Hiring a carpet repair expert in Melbourne has never been so easy!
Call Carpet Repair Experts: 03 4050 7972
Contact Us: Have Any Queries, We Would Serve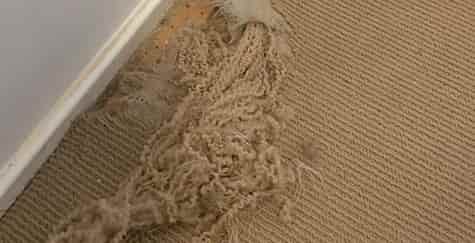 Who Are We?
Discover the remarkable carpet repair services offered by City Carpet Cleaning Melbourne! Don't allow damaged carpets to be a source of concern any longer. Rather than discarding them, rely on our proficient team to rejuvenate their appearance and prolong their lifespan. With years of experience in the field, we've mastered the craft of carpet repair. Our experts are well-versed in addressing a range of issues, including wrinkles, holes, and patches, with great precision and care. We utilize state-of-the-art technology and advanced techniques to guarantee flawless repairs that surpass your expectations.
Carpet Service Quality That Matters: A Variety Of Our Carpet Repair Services
At City Carpet Cleaning Melbourne, we are committed to delivering outstanding results. With our affordable prices, exceptional services, and dedication to customer satisfaction, we're the go-to carpet repair company for both residential and commercial needs in Melbourne and its suburbs. Contact us today at 03 4050 7972 to schedule an appointment with our carpet repair experts.
Carpet Re-stretching Melbourne
Relaying and re-stretching is a great way to save carpets from severe damage. Laying an old carpet in a new area or adjusting its layout can make a huge difference. We have the best re-stretching and restoration services in Melbourne. Our experts for carpet repair Melbourne services are trained to deal with wrinkles, bumps, bifurcated carpet fibres and more.

Carpet Restoration Service Melbourne
The carpet replacement costs are skyrocketing, so it is essential to use all the resources to restore an old damaged carpet instead of buying a new one. However, our Melbourne carpet repair service is always on its toes with the best machinery and equipment to restore your old carpet and make it look like a new one!
Rug Repair Melbourne
Repairing a rug is comparatively easier than buying a new one as it is inexpensive to repair a damaged rug. You can easily get your rug repaired by taking the services of our carpet repair Melbourne experts.
Carpet Hole Repair Melbourne
Certain fabrics of carpet might get holes and damaged easily. You need to handle such types of carpets with extra care. It could also lead to accidental tearing where a part is ripped off which could ultimately lead to a hole. However, with our services, you can get it fixed.
We Fix Carpet Burns
Our team is also well-trained to take care of the burnt spots on the carpet. The carpet fabric is such that it can easily catch fire. In such cases, the carpets might get damaged. However, you can get our patching services for instant treatment.
Carpet Seam Repair Melbourne
It is possible to remove carpet seams or repair them. Our team uses seam sealers and seam sealing tapes to perform this job. Our Carpet Seam Repair Melbourne service is the most popular among people. We have saved thousands of carpets and your problem can also be solved.

Carpet Patch Repair Melbourne
One should take proper care of the carpet as the fabric of the carpet could be very fragile. Carpet patching is something that will help you in the long run. We provide patching services that can fix your burnt carpet, carpet holes, and dents. It works best for the small and localized spots that are frayed and worn out.

Water Damaged Carpet Repair Melbourne
We have a bunch of certified technicians that promise 100% client satisfaction and they are proficient in water-damaged carpet repair and restoration. If the carpet is contaminated by water, the carpet gets damaged due to the high moisture and it should be fixed at the earliest to avoid further damage.
Carpet Torn Repair Melbourne
It is possible to repair a tear in the carpet. We are the most experienced and trusted carpet repair company that restores any kind of damage, burn and tears from the carpet. These torn could also happen due to friction and you can avail of our services to solve all your concerns.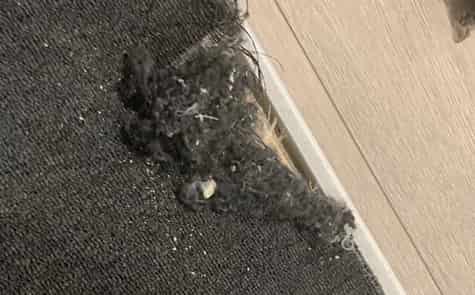 Emergency Carpet Repair Services In Melbourne And Other Nearby Regions
We provide a wide variety of carpet repair services that will often be beneficial to people and will save a lot of money.  Not only these, but we also provide emergency services in some cases. All you need to do is contact us on 03 4050 7972 in case of emergencies. Our ultimate motto is to reduce wastage and lead people towards sustainability. By hiring our professionals, you can save your carpets since we provide you with the perfect solution during an emergency. With carpet wrinkle removal, patching the holes, seam repairing and sealing, we can make your carpets like newly installed carpets. Our team is always on their toes to provide the best services to our clients.
Reviews
Completely new look to the carpet
These experts used equipment and tools; which gave a completely new look to the carpet. My guests were about to come to my home, that is why I called for an emergency carpet cleaning service. To my surprise, I got amazing results!
Taken steam cleaning service
I have taken steam cleaning service from this company, and they have provided me with the best carpet cleaning service in Melbourne.
Happy with the stain treatment
I hired this company for the third time because of their fantastic work. These guys are too good at removing stains and disgusting odours from carpets. Also, they offer budget-friendly services. Thank you so much!
Other Carpet Repair Services We Provide
Our experts use the highly advanced and latest equipment for the repair of carpets. We can repair any kinds of damage that occurs to your carpets. Be it by cutting it out or by replacing the damaged part. We perform all the tasks with perfection. Our services are very affordable, compared to carpet replacement costs. Therefore, we often suggest repairing the carpets, rather than throwing them away.
Carpet Base Replacement
With the replacement of the base of the carpet, you can prevent skidding and also give a definite structure to it. By availing of our carpet base replacement, you can prevent any kind of risk from happening.
Carpet Pad Fixing
If you observe your carpet pad coming off, then it's time to fix it. With our carpet fixing and mending services, you can fix this issue.
Stair Carpet Repairs
Stair carpet repairs can breathe new life into your home, giving it a fresh and updated look. Over time, stair carpets can become worn and stained, leaving your stairs looking tired and uninviting. However, with professional stair carpet repair services, you can restore the beauty of your stairs without having to replace the entire carpet.
Whether it's a small tear, a loose section, or a stubborn stain, our team of experienced professionals can handle it all. We use the latest techniques and tools to repair your stair carpet quickly and efficiently, ensuring that your stairs look as good as new.
We understand the importance of a well-maintained home. That's why we offer top-notch stair carpet repair services to our clients, ensuring that they get the best value for their money.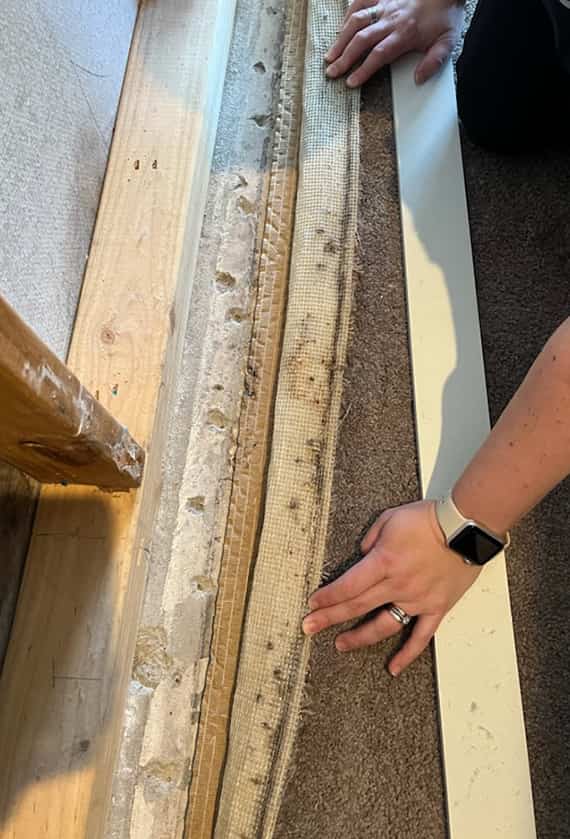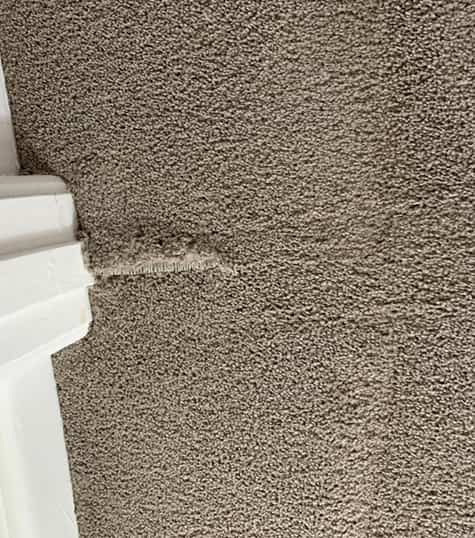 Why Hire Our Carpet Repair Company In Melbourne And VIC Suburbs?
We are a leading carpet repair company for both residential and commercial carpets in Melbourne, VIC. Here are some good reasons for hiring us for carpet repair in this region:
Our technicians have a very good reputation in the industry for carpet repair results.
Our group is trained with the most advanced equipment and repair approaches.
The employees work with accuracy and enthusiasm resulting in superior repair results.
Our services can be availed in any suburb of Melbourne, VIC.
The best thing about our carpet repair company is that we also provide same-day carpet repair services.
All the services that our company provides are very affordable and effective.
The customer care team is available 24*7 and will take bookings anytime.
This company is a local-based one and hence we have local experts.
We help you get your bond money back.
We can save severely damaged carpets.
FAQs
You can get our services at the most affordable prices. Our carpet repair services start from $1.55 per square foot. Homeowners can expect to pay $180 for carpet repairs in a 100-square-foot space, $350 for 200 square feet, $550 for 300 square feet, $730 for 400 square feet, $900 for 500 square feet, and so on.
We provide our services in all the regions of Melbourne including all suburb regions.
It's because it will help in reducing wastage and will also save you money. Repairing your carpets instead of purchasing new ones is one step towards sustainability. You must check with experts if your carpet can be repaired.